Wounded fighters continue to apply to us for the restoration of bone and tissue using stem cell-based biotechnology as part of the Bioengineering Rehabilitation for Wounded project. Their stories are similar, wounded after coming under fire from a Russian-backed enemy determined to undermine the sovereignty of Ukraine. However, the war story of one piqued our interest.
Nineteen-year-old Organization of Ukrainian Nationalists (OUN) volunteer fighter Ihor's (callsign 'Shultz') story is now forever linked to two other soldiers who fought and were wounded alongside him. The twist? One is a native of Belarus, the second, Russian. Their common political views led them away from the peace and sanctuary of student life and straight into hell on Ukraine's front line. Joining the fight for Ukraine was seen as an idealistic way to spend their summer break from studies. As members of the OUN volunteer battalion, they were soon to find out the hard way, war's a bitch.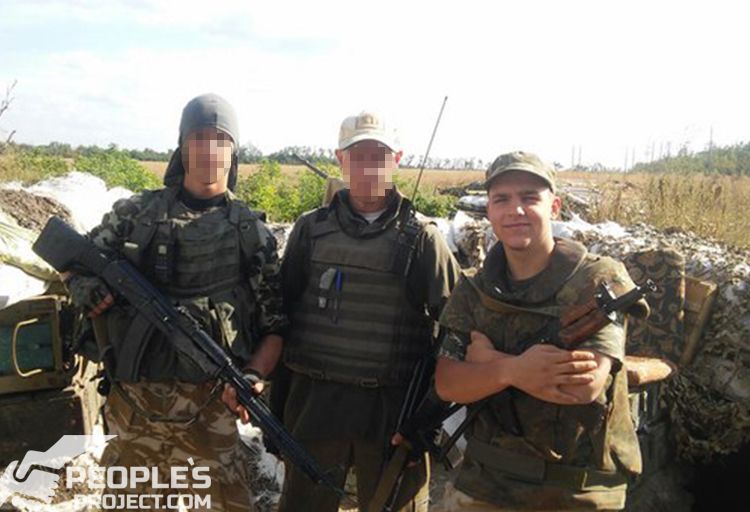 Although the Minsk Agreement meant a ceasefire was supposedly in place, the trio found themselves increasingly in the line of fire as enemy attacks increased in intensity and frequency. On September 13 2015  Ihor, his Belarussian comrade, known by his callsign 'Syabry' and Russian citizen Sergey were shelled from an enemy position 300 meters away. Their subsequent wounding was to bring consequences for them that extend far beyond the physical.
'Syabry' was least affected and has recovered from his injuries to continue his struggle against what he calls a "totalitarian system". For Sergey the consequences are far reaching and tragic. He remains marooned in Dnepropetrovsk; he continues to undergo complex treatment and ideally needs to be fitted with a prosthetic leg abroad. For physical and more-worryingly, political reasons, he cannot return home to Russia, therefore his visa allowing him a two-year stay in Poland has long expired. Despite his service Sergey is ineligible for Ukrainian citizenship, so going abroad to continue treatment is an impossibility. Ihor takes up the story:
"The Belarusian who was wounded with me, was given citizenship finally after half-a-year of war. But also hit was a Russian I consider to be my brother, his leg could not be saved and had to be amputated. The boy cannot get citizenship of our country, as a matter of SBU security rules…
"Sergey has lived all his life in the Moscow region. He arrived in the winter of 2014 to stay with a mate in Kyiv. Then the Revolution of Dignity had just started. He saw the police engaged in beating people as if what they were doing was nothing – students just like him – and doing so knowing they would go unpunished and he understood, no matter which country, such things cannot be allowed.
"So for Sergey it all started with Kyiv. He returned home and came under criticism from his friends and comrades who called him "Maidan Zombie". Then he decided to come back to us. He said it was his choice – this was not only for the defense of Ukraine, this was for Russia, and Belarus, and all Slavic peoples suffering from imperialist ambitions of those bastards in the Kremlin."
Currently, Ihor awaits his next operation. Doctor's forecasts give him hope for full recovery of function in his left leg. However, if Ihor had not had access to biotechnological treatment, he was faced with losing the leg within the next six months.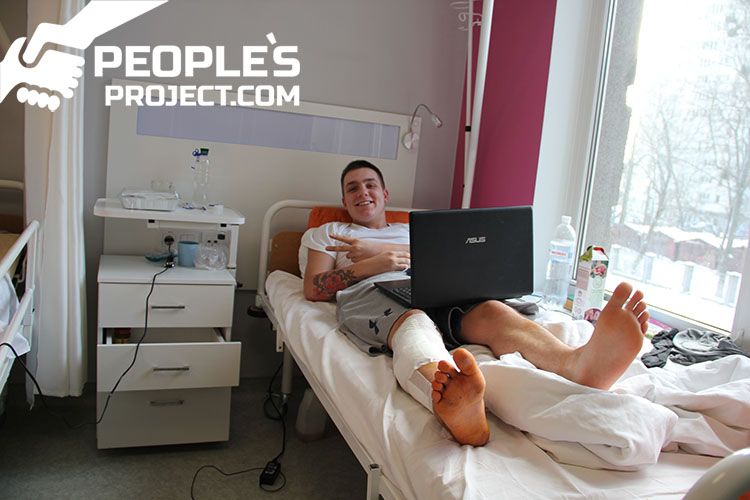 Before the war, Ihor was studying political science at Opole University in Poland. He is determined to fight on, if not at the front then to defend the rights of volunteer battalions:
"On behalf of our battalion I say the Poroshenko regime has profited on the bones of volunteers who were, from the beginning of the war, at the front. We do not get veteran status. We have a lot of foreigners in the battalion, none of them are provided with any benefits, no one is willing to admit that we were a credible and organized military unit…I worry about this."
Fundraising for Ihor's is continuing and he expresses gratitude to all those who contributed and in return he promises to continue to uphold the honor and dignity of Ukraine.
To find out more about the project, its success stories, and other soldiers undergoing treatment, follow this link.