Description
Why is it important?
The People's Project
almost from its inception embraced dealing with finding solutions to the problem of aerial reconnaissance. We launched and implemented several successful projects with this focus and not did not stop developing new solutions to this most pressing problem, including consulting with the military and their requirements. It is important to understand that one type of UAV can not address all the problems Ukraine's troops face at the front, universal and effective solutions exist simultaneously. It is important that the men have the right machine to fit the specifics of their tasks and missions.

For intelligence operations conducted on the contact line to find the right and most effective device for operational reconnaissance is no mean feat. It is clear when moving quickly to change their place of deployment a huge "bird" is not convenient. This posed the question of finding aircraft of compact design that combine the benefits of small UAVs yet still pack a punch in terms of serious specifications. Thus UKRSPECSYSTEMS company created the folding PC-1 Quadcopter .
The PC-1 Quadcopter will be a useful mobile intelligence unit for the exploration of territory; any units located near the front line will be able to to view the area around camp, and detect and track enemy vehicles and human forces at short distance. The quadcopter features a complex design that fits easily into a backpack, yet can be quickly deployed. In order to be ready to fly, the copter requires less than three minutes preparation time. It features gyro-stabilized suspension and is equipped with a 10x zoom camera.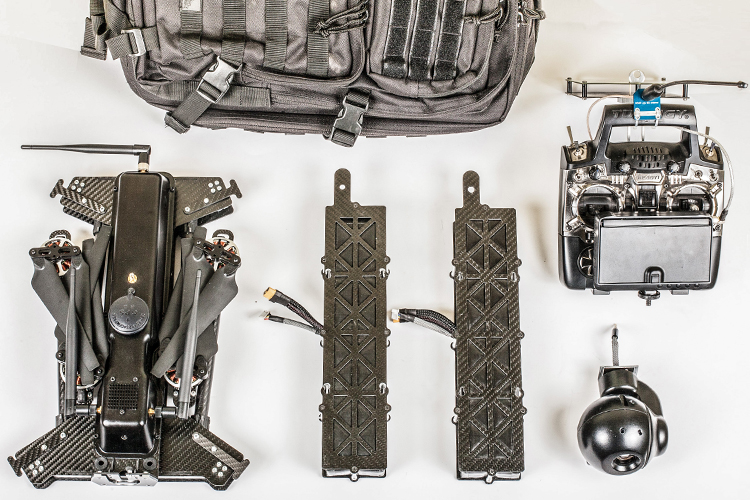 Length in folded state
495 mm
Length in unfolded state
560 mm
Height (with battery)
140 mm
Distance between rotors
690 mm
Weight
4200 g
Range, up to
5 000 m
Flight time
up to 40 minutes
Power supply
2 batteries delivering 6 500 
Digital encrypted telemetry link
AES 128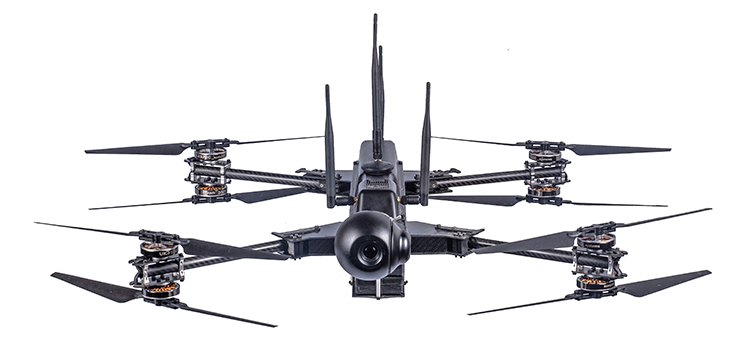 Built-in 2-axle gyro-stabilized gimbal


EO camera with 10x zoom


Digital encrypted telemetry link


Encrypted video signal


Range reception and control – 5 km


Flight path programming ability


Compact folding design



Video of deployment and operation of the quadcopter



Folding PC-1 Quadcopter


Built-in two-axle gimbal


EO camera with 10x zoom


Backpack


Remote control for copter


7" screen for viewing live video


Android based tablet


2 batteries delivering 6 500 A·h


Battery charger


USB telemetry module


Where does the money go?
The funds collected will be spent on the production of seven quadcopters developed by a group of enthusiasts, who set up
UKRSPECSYSTEMS
 especially for Ukraine's military taking into account their needs and concerns. A single copter kit will include all of the above technology, but, if necessary, equipment can be supplemented.
We have a clear understanding of and experience in the production of UAVs to be used to improve the combat capability and effectiveness of Ukraine's forces.
Testing the PC-1 Quadcopter in the rain
05

August

2019

Project budget reduced by UAH 22.250. The number of copters under the budget of the project decreased by one gear.

09

July

2018

Project budget increased by UAH 128,997. Due to the replacement of octocopter components, the cost of one UAV increased from UAH 194,500 to UAH 250,000.

24

March

2017

Project budget increased by UAH 108,965. The budget is raised by the cost of repair and modernization of one of the quadcopters.

18

January

2017

Project budget increased by UAH 260,003. Given the experience we have and the feedback from the military, we have decided to improve the design of our drones. From now on we will be producing octocopters PC-1 instead of quadcopters.

02

September

2016

Project budget increased by UAH 250,000. Due to the rising demand for folding drones, we have increased the number of gear in the budget from five to seven.

375 000 UAH

639 000 UAH

Modernization of quadcopter PC-1
108 965 UAH
Totally:
1 122 965.00 UAH