Description
Who in particular needs our help?
3rd Detached Special Regiment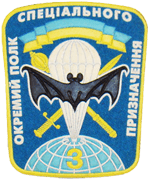 ---
Here is where the so-called "IT battalion" gets to work. Harnessing to information technology to provide assistance.
Now, with the advent of war, accurate arrangement of supplies for our military has become a critical factor in their safety.
We believe the special forces, those, who are on the frontline every day, need our help most of all. With this in mind, we decided to join the First people's special trooper project on the https://www.peoplesproject.com platform
Our aim is that every IT specialist invests in a trooper's life a sum equal to one days' pay.
One day of our work can safe thousand days of soldier's life.
We will not stop at this point. A systematic approach and dissemination of successful experience across the country will show that we care.
It's our country, our friends and neighbors are standing against the threat. It's us who can change things and give every soldier the feeling he is not alone while under fire. That he is not forgotten on the frontline and is as much as possible supported by us.
Our action has already started in Mykolaiv and Kyiv.
The first funds have been raised, the first purchases have been made.
Anyone can join us, spread the word and help save the lives of soldiers!.
---
What is the money raised for?
We call for donations for 110 troopers from the 3rd platoon of 3rd Detached Special Regiment of the Main Intelligence Department of the Ukrainian Defense Ministry, who are in need of new equipment for effective combat at anti-terrorist operation zone in the East of Ukraine.
20

February

2015

Project budget increased by 16 965 UAH due to the equipment provided by the sponsors.

29

January

2015

Project budget increased by 111 100 UAH. Night vision monoculars were added to the budget.

27

January

2015

Project budget increased by 17 250 UAH. Actual needs were added.

21

January

2015

Project budget reduced by 14 029 UAH. Some positions were transferred from other projects, budget is corrected according to actual needs of the military.

14

January

2015

Project budget increased by 109 106 UAH. Thermal imaging monocular Archer TMA-55 was added.
Equipment
36 426 UAH

30 500 UAH

Load bearing vest MOLLE -FWS
6 942 UAH

4 732 UAH

1 650 UAH

6 800 UAH

108 029 UAH

Tactical glasses UVEX Genesis
1 747 UAH


1 400 UAH

1 750 UAH

6 075 UAH

5 775 UAH

13 800 UAH

1 815 UAH

23 468 UAH
10 140 UAH

7 992 UAH

200 UAH

5 472 UAH

1 680 UAH

3 000 UAH
Devices


Thermal imaging monocular Archer TVA-55
109 106 UAH

Thermovision camera Guide IR518EC

ATN NVM14-3 Gen. Night Vision Monocular
67 800 UAH

COT NVM – 14 BC Night Vision Monocular
47 500 UAH

Infrared Illuminator Armasight 850 for NVM
23 300 UAH

Iridium 9555 satellite phone with SIM card
121 550 UAH

Diesel generator Forte 4.5 KW
36 000 UAH

3 200 UAH

Thermal imager Pulsar HD 38S
44 400 UAH

25 000 UAH

4 000 UAH
Totally:
761 245.00 UAH