Description
Modern equipment for Ukrainian fighters!
A thermovision camera is a device that potentially saves the lives of the military as it helps identify enemy manpower. Ideally, each unit, deployed at the ATO zone must have at least one thermal camera. The reality is quite different. What's more, the cameras that have been already delivered to soldiers by the People's Project and other volunteer organizations may be damaged during attacks, shelling or during gun fights. Previously, as part of this project and other projects on
https://www.peoplesproject.com
we have bought and delivered thermovision cameras to the fighters of various units. However, the need for cameras is still pressing. Thus, we continue to do everything possible to equip as many military units as possible with quality thermal cameras.
You can see the image got with Pulsar Quantum: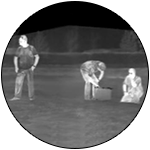 ---
Acquisition

Thermovision camera Pulsar Quantum
149 100 UAH

Thermovision camera Guide IR518EC
582 980 UAH

Thermal imager Pulsar Quantum XD 50S
102 148 UAH

Thermal imager Pulsar Quantum HD 19S
56 734 UAH
Totally:
890 962.00 UAH