---
How Vasil's treatment is progressing:
16.07.2015: Restoration of bone of 24th Mechanized Brigade fighter Vasily

---
12.06.2015: Vasil experiences formation of new bone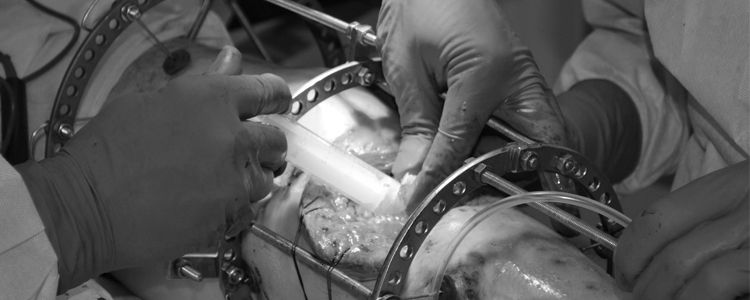 ---
25.02.2015: Vasyl shows promising results after first stage of treatment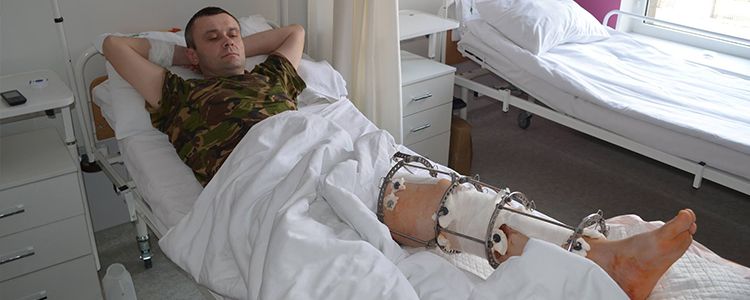 ---
Wounded: Vasil, 38, the 24th Mechanized Brigade, injured near Georgiyivka (Luhansk region).
Trauma: Proximal tibia defect (100-120 cm3) with malunion, damaged knee joint.
Required treatment: Reconstructive and restorative treatment of the left proximal tibia using cellular technology.
Failure to conduct timely treatment using stem cell technology, the fighter is threatened with amputation because of dysfunction of his foot.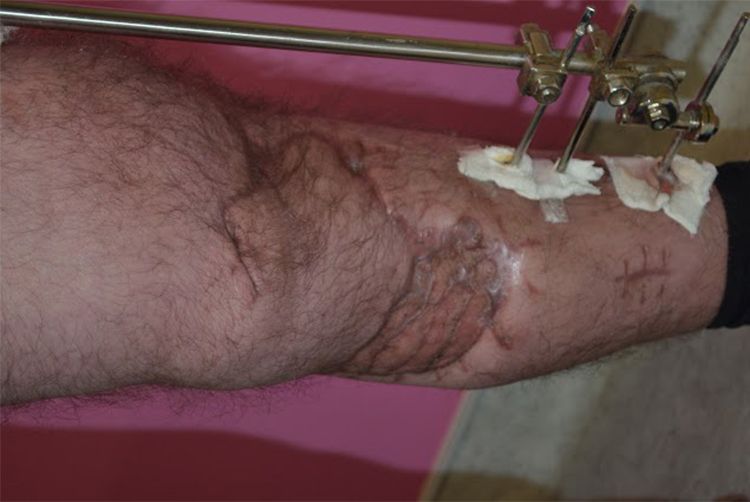 More about the patient:
Vasil, a soldier in the 24th Mechanized Brigade, was injured on August 20 when Ukrainian soldiers were entrapped by the enemy: separatists attacked a checkpoint and retreated – it was a diversion. Meanwhile, another group of terrorists went behind the checkpoint and began mortar fire.
The wounded soldier was taken to Lutugyne. Later he was hospitalized in Kharkiv, Zhytomyr and Lviv. In these five months of hospitalization Vasil underwent a series of operations that had no effect. There was even some infection. Now an external fixation device keeps the knee joint fixed, and some areas of shin-bone have healed incorrectly. Vasil's case requires faster action from doctors – to fix the bone, substitute tissue loss with Vasil's own cell-tissue material and save the joint.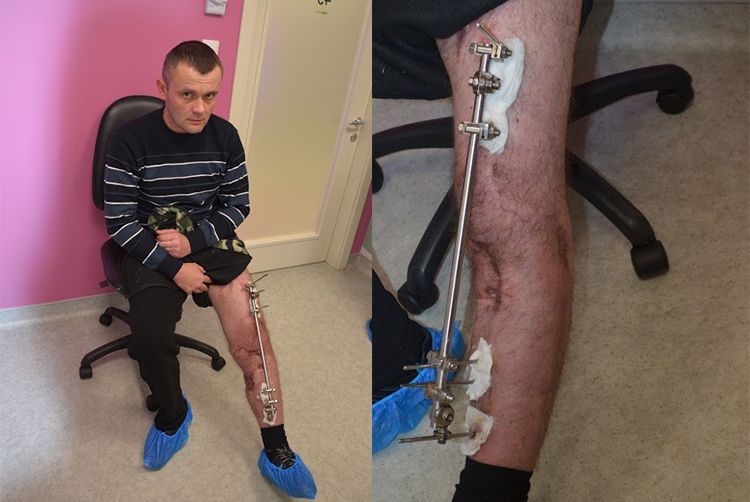 Vasil was mobilized for duty in the ATO zone in June last year. He participated in the liberation of the city of Popasna (Lugansk region), and defended the position of Ukrainian troops at many checkpoints in the Lugansk and Donetsk regions.
Vasil was born and raised in Lviv, in the village of Streptiv, in the Kamyanka-Bug region, where his parents are waiting for him. In peacetime, he worked at a local private сompany specializing in growing champignon mushrooms.
Vasil also took an active part in Euromaidan in Kyiv, where he spent almost all last winter.
Let's help this patriot and true hero!
Vasil's proximal tibia injury is the most difficult leg injury that our project healed so far. As soon as possible the support ability of the knee joint has to be restored and correct defect. A 3-5 stages of treatment has to be held, perhaps it will be several operations. Treatment can last 3 months.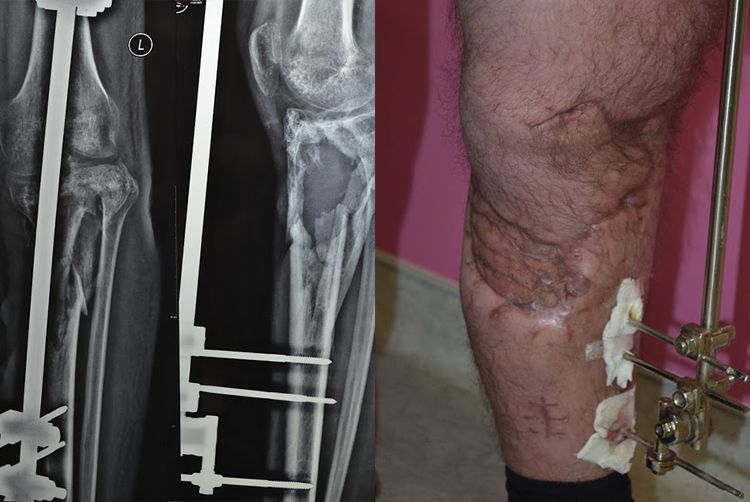 List of services included in the treatment:
Diagnosis and examination: 3,405 UAH
Surface preparation: 42,803 UAH
Collection of material production and preparation of cellular material carrier: 191,393 UAH
Treatment of tibia defect: 12,890 UAH
Drug and post surgical care: 67,497 UAH
Cost of treatment: 520 665 грн.
Medical Center discount: 35,28%
Special Price: 321,987 UAH.