How Volodymyr's treatment is progressing:
Wounded:
Volodymyr G, 33, fighter with the 30th Brigade, wounded near the village of Stepanivka.
Wound:
The consequences of a gunshot wound to the left shoulder:
Improperly spliced fracture of the humerus with varus deformity and anti-curvation.
Defect of bone tissue.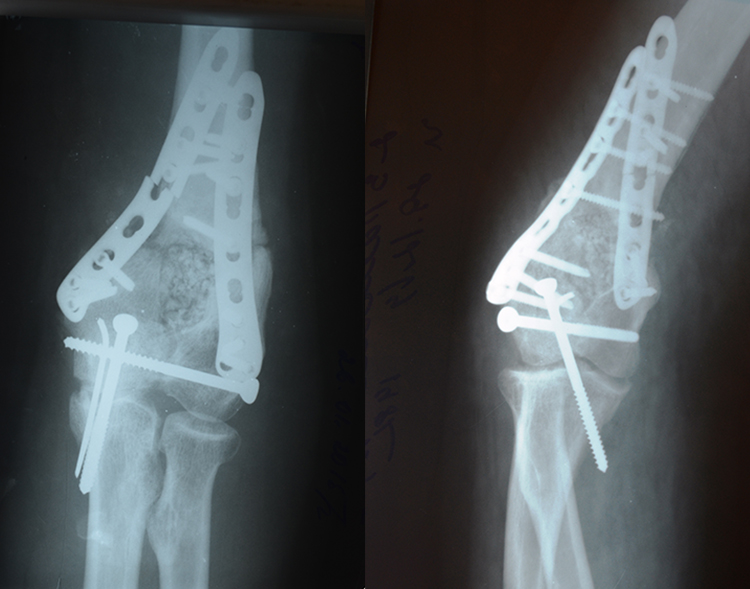 Volodymyr can neither bend nor straighten the arm. The hand actually fixed in a bent position and because of that, the fighter can not use it. Public hospitals and clinics do not offer it, but to save Volodymyr from disability he needs reconstructive treatment using cellular technology.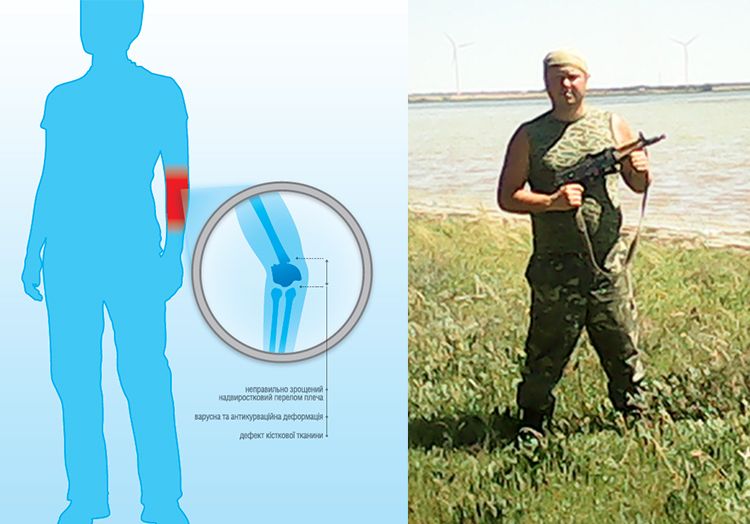 More information about the wounded:
Volodymyr was mobilized to the 30th Brigade (from Novograd Volyn). He received the gunshot wound to his arm on July 30, 2014, in the village of Stepanivka, near Savur-Mohyla. Together with fellow soldiers Volodymyr picked up a flamethrower, which had been left in the street. Along the way, he was ambushed and came under fire.
Wounded, he was immediately sent to Severodonetsk, then to Dnipropetrovsk, and Kyiv. Volodymyr endured six operations on his arm. During treatment at one of the hospitals in a fight he broke the plates fixed to his shoulder. Then the bone fused improperly. After treatment in public hospitals, Volodymyr received group three disability status and was dismissed from the Armed Forces.
Volodymyr was mobilized in March 2014. First performed combat missions in Chaplinka – on the border with occupied Crimea, and defended Ukrainian territory in the mining region of Donetsk, near the border with Russia.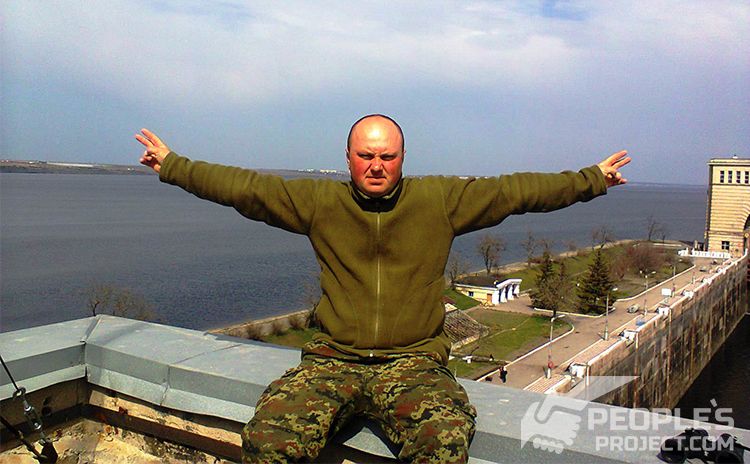 Before the war, Volodymyr served under contract and brought up three daughters, aged 13, eight and tw0-and-a-half. He enjoysoutdoor activities – such as gathering mushrooms and sport. Ever since childhood, he has played volleyball and tennis. He hopes to return to normal life as soon as possible, so far he has survived with his non-functional hand, working to feed his family.
Required treatment:
Reconstructive and restorative treatment of the humerus that will return full hand function.
Itemized costs for diagnosis and treatment:
1. Monitoring during treatment (study of cells, blood, urine, control X-rays, ECG, etc) – 10 795 UAH
2. Consultations of specialists for treatment (discount 40%) – 2 058 UAH
3. Sampling fragment of the fibula and red bone marrow (discount 40%) – 16 350 UAH
4. Endothelial cells, 20 million (discount 30%) – 28 000 UAH
5. Periosteal cells, 20 million (discount 30%) – 28 000 UAH
6. MSCs from bone marrow, 100 million (discount 30%) – 64 000 UAH
7. Total cost of reconstructive and restorative treatment (discount 40%) – 249 231 UAH
Cost of treatment including medical center discount of 37%: 398 434 UAH