---
How Yuriy's treatment is progressing:
16.06.2015
:
Yuriy's humerus has been restored!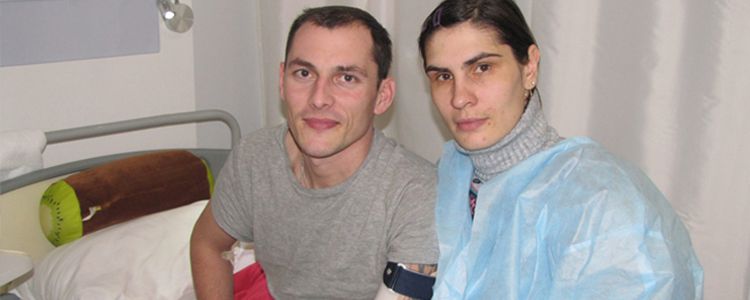 28.04.2015
:
Yuriy on the road to recovery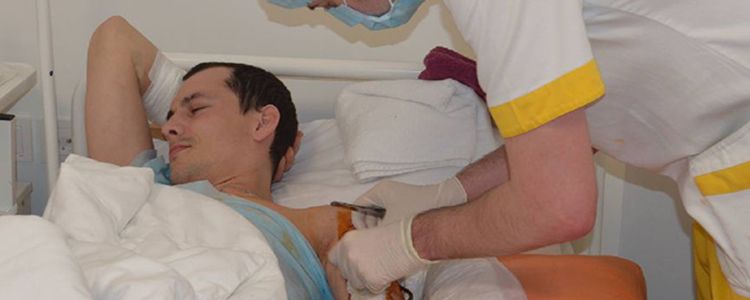 19.02.2015
:
Update from Medical Сenter
12.02.2015
:
Main stage of Yuriy's treatment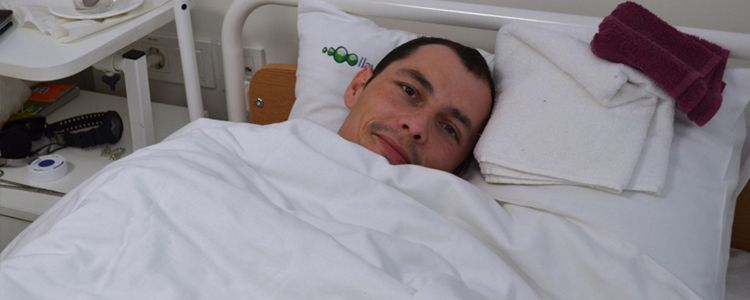 12.12.2014
:
How our heroes are feeling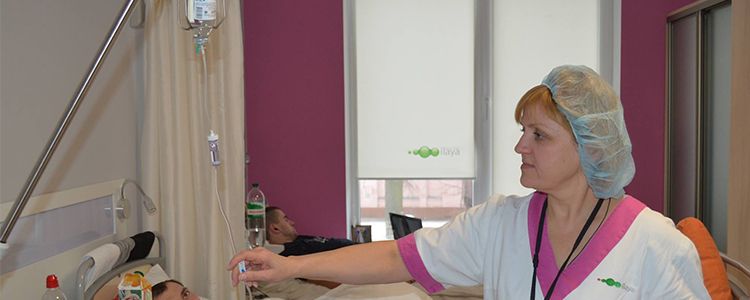 21.10.2014
:
Stem cells give hope for bone regeneration – STB "Vikna" news report

13.10.2014
:
"Bioengineering rehabilitation": Yuriy is in safe hands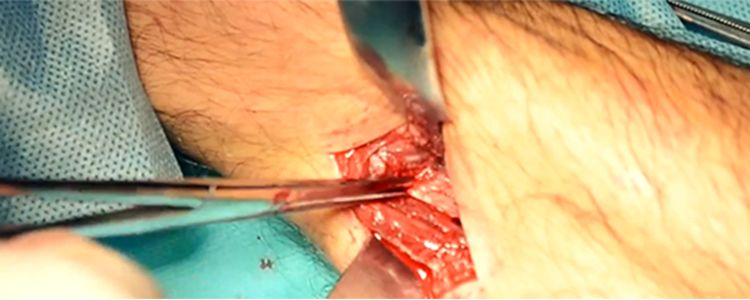 26.09.2014
:
We visit Dmytro and Yuriy in hospital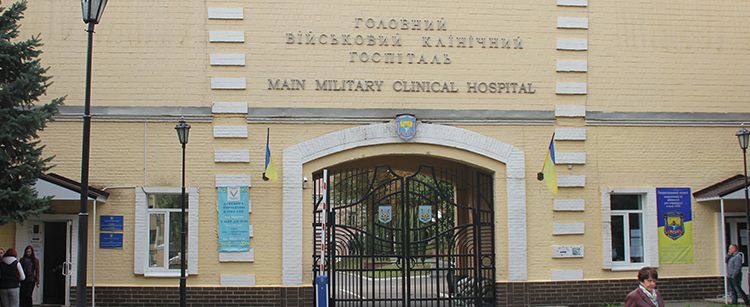 ---
Wounded: Yuriy, 28 years, Ukrainian scout, wounded near the city of Chervonyi Lyman.
Injury: Gunshot shoulder injury, humerus loss up to 12 cm.
Necessary treatment: Reconstructive surgery, restoration of humerus integrity after the injury.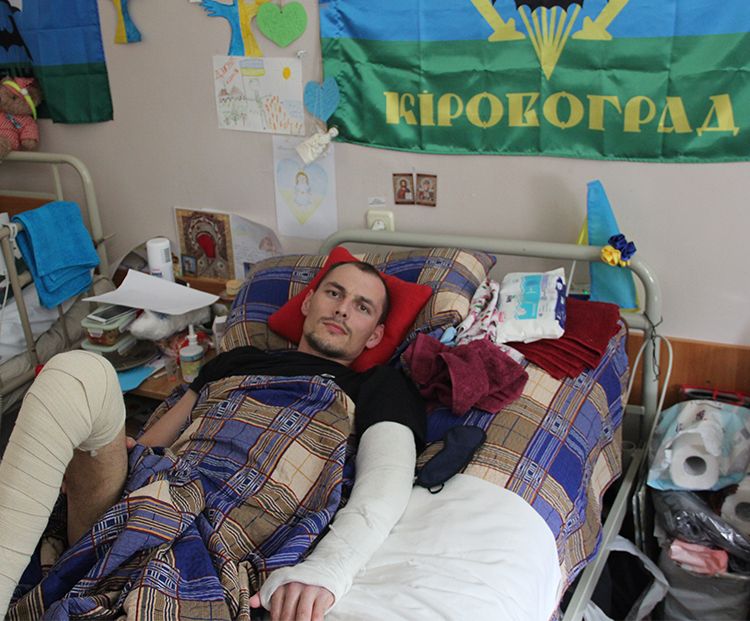 More about the patient:
Yuriy was injured during a combat mission to explore and locate roadblocks of the militants. To accomplish the mission he was delivered by helicopter to a forest. But soon after, Yuriy was ambushed, shooting started and as a result, he suffered multiple injuries and lost a lot of blood. His fellow combatants carried him in a very serious condition out of the forest and he was flown by helicopter to Kharkiv. Afterwards he was transferred to the Kyiv military hospital – it was only there he regained consciousness.
Because of the spine fragmentation Yuriy has been undergoing treatment for three months now and unfortunately he still cannot walk. He also has problems with his liver, another serious injury – severe damage of the humerus, which can lead to the loss of hand function and other complications.

This injury requires treatment using stem cell technology – this method will help to restore his bones and save the arm.
Yuriy is  a career military man, he has spent almost 10 years in service to Ukraine. Most recently, he served in a military unit in Kirovograd until he was sent to the ATO zone. Yuriy has a family waiting him home – two children, his wife and father.
---
List of services and their cost
The list contains the special prices for this patient:
Diagnostics and examination — 3,500 UAH
Collection and production of cellular material — 100,200 UAH
Treatment of the humeral bone defect — 36,421 UAH
Medical and post-operative care — 11,800 UAH
Restorative treatment of spinal cord bruise using biotechnology — 12,500 UAH
Expenses for the 2nd and 3rd stage of spinal cord treatment amounted to 130 100 UAH and 38 900 UAH correspondingly.
Budget update:
The main operation was on February 6, 2015. After only three months, the doctors stated the complete fusion of the shoulder bone fracture, and after 6 months, Yuri has already begun to perform physical exercises with his hand. However, the wounded hand is not his worst trauma. His spine was severely damaged as well, which is why Yuri still cannot walk on his own. Now one of his legs has already regained sensitivity, but the other – does not function. Yuriy needs to undergo paravertebral injection of cellular material, which will help to reduce the effects of trauma, restore the nerves, and at the same time the motor function of the leg.
The treatment is planned to be carried out in three stages: firstly, the donor cells will be injected in the amount of 20 million and the fat cells will be extracted, secondly, doctors will inject his own cells prepared in the laboratory. The costs for the first stage is UAH 12,500.
The costs for the second and third stages scheduled for July-August 2016 will amount to UAH 130,100 and UAH 38,900, respectively.
In 2014-2016, Yuri was treated for a defect of the humerus and severe consequences of spinal trauma, that was accompanied by the significant limitations on the leg functions. Now the function of the legs is significantly improved, and the shoulder bone is restored. Yuriy uses a cane instead of the crutches. For further restoration of the functions, neurologist assigned additional injection (paravertebral and perineural) of the stem cells derived from the nerve crest. The cost of this stage will amount to 59,247 UAH. Also, recently, the fixing plate that has been holding the femoral bone during the treatment, started moving. Thus, the soldier must undergo a plate removal operation, costing UAH 28,601.
Special price for the treatment (several examinations, surgery, post-surgical care, drug provision, rehabilitation) from the medical center : 421,269 UAH